Affordable AC & Heating Systems in Wisconsin!
Serving Burnett County & Polk County, Wisconsin
Having more than 30 years of experience, we have successfully provided excellent indoor comfort in homes and commercial buildings throughout surrounding areas of Siren Wisconsin.
Contact the experts at Earth Energy Today!
715-349-2314
Enhance Hydronic Heating System with a Mitsi Ductless System
Mitsubishi Electric and How It Works 
Based in Siren, Wisconsin, Earth Energy Systems is a trusted supplier of a wide range of heating, ventilation, and cooling systems. We provide affordable heating systems to Wisconsin as well as air conditioning solutions and repair services for commercial and residential clients. Our company offers furnaces, geothermal systems, geothermal heat pumps, garage heaters, air conditioners, air filtration systems, thermostats and more.
We also provide repair services for a variety of heating and cooling products. Having more than 30 years of experience, we have successfully provided excellent indoor comfort in homes and commercial buildings throughout surrounding areas of Wisconsin.
The experts at Earth Energy are known for providing intelligent solutions to ensure that your HVAC equipment operates efficiently and smoothly. Our organization employs seasoned professionals who are trained to handle all your air conditioning and heating projects. Whether you need an air conditioner for your house or a centralized cooling system for the office, you can rest assured that with Earth Energy's assistance, you are sure to get affordable and effective HVAC solutions.
Both residential and commercial customers can take advantage of our air conditioners, heating systems (from energy-efficient brands like Mitsubishi, Electric, and Trane.)

As a leading HVAC solutions provider, we also provide Geothermal systems from WaterFurnance. The products targeted for residential and commercial industries are built with the robust features to make you feel comfortable without costing you a fortune.
Earth Energy Systems understands that HVAC systems are a substantial investment. We offer systems by first analyzing your needs. We focus on the goal of providing customers with the best affordable heating and cooling systems. We are also available to keep your HVAC systems operating for a long time.
Need heating and cooling products for a new home or are are you looking to replace your old system? You can rely on Earth Energy Systems for expert service. We are dedicated to serving our customer's heating and cooling needs in the most affordable and efficient way. Our experts are available round the clock to provide you the best heating and cooling systems. No matter what your need, we will install, repair and maintain your HVAC system.
Your Siren, Wisconsin Heating And Cooling Source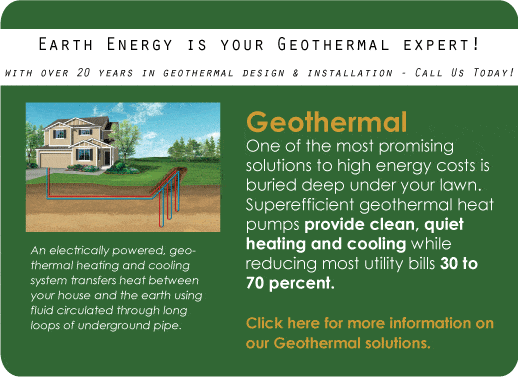 Earth Energy Systems Reviews From Our Clients:
The response time was excellent. Amanda,the HVAC Technician, was knowledgible, fast, professional and courteous. This is my second time working with EES and the first time was trouble shooting my neighbors garage heater. Sa…e great service. We maybe building a new home in the fall and I will definitelycall EES for oyr heating and cooling systems. Rick and Dianna Smith, Webster .Amanda the HVAC Technic8an was knowledgible, fast court
Melissa Magnuson
2022-12-30
Very quick response, friendly and took care of more than they probably should have…. Thanks!
Susan Flueger Nevitt
2022-10-03
This vendor was easy to work with. They were good communicators
Ken Splittstoesser
2022-07-07
Awesome service! Needed them twice in emergency situations and they responded within an hour! Amazing service for us folks here in the sticks of Northern Wisconsin!
steve wallerich
2021-09-01
Excellent service...quick