Earth Energy Systems offers air conditioning & furnace service repair. Give our experienced service technicians a call today! They service Burnett, Polk, Barron and Washburn Counties in WI.
Northwestern Wisconsin Furnace and AC Repair Services & Areas
Earth Energy Systems performs furnace and air-conditioning maintenance and repair throughout Burnett and Polk Counties and also the western edge of Barron and the Spooner area.
We sell, service & repair all major makes and models of furnace and central air conditioning units.
Earth Energy offers 24-hour emergency furnace repair, boiler repair, and air-conditioning repair service in Wisconsin.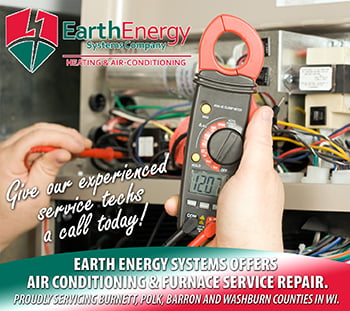 Some of the services we provide are:
HVAC service on all makes and models
24-Hour Emergency Service
Quality Planned Maintenance Programs
Normal Business Hours:
7:30 am to 4:30 pm Monday through Friday
AC & Heating Emergencies:
For After-Hours Service, call 715-349-2314
Service Rates: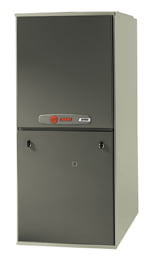 We charge a fee to diagnose the problem with your system. Pricing depends on time spent on the project plus replacement parts.
Earth Energy Systems HVAC Service Areas Covered:
Burnett County, WI: Anderson, Blaine, Daniels, Dewey, Grantsburg, Jackson, La Follette, Lincoln, Meenon, Oakland, Roosevelt, Rusk, Sand Lake, Scott, Siren, Swiss, Trade Lake, Union, Webb Lake, West Marshland, Wood River
Polk County, WI: Alden, Amery, Apple River, Balsam Lake, Beaver, Black Brook, Bone Lake, Centuria, Clam Falls, Clayton, Clear Lake, Dresser, Eureka, Farmington, Frederic, Garfield, Georgetown, Johnstown, Laketown, Lincoln, Lorain, Luck, McKinley, Milltown, Osceola, St. Croix Falls, Sterling, Turtle Lake, West Sweden
Western Edge of Barron County, WI: Almena, Arland, Barronett, Cumberland, Poskin, Turtle Lake, Twin Town
Southwestern corner of Washburn County, WI: Beaver Brook, Chicago Junction, Sarona, Shell Lake, Spooner
Earth Energy Systems provides furnace, heater and air conditioning repair, service, installation and services in Luck, WI and surrounding areas. At Earth Energy Systems, we make sure that our customers get the most out of what they spend from their pocket. With over 20 years of experience, we cater to all your air conditioning and heating needs. We service and repair our residential customers with excellence. We provide free estimates on new installations. The most important thing is the quality and attention to detail that we provide. With Earth Energy Systems, you can expect value and comfort. Check out Earth Energy Systems Heating and Air Conditioning services reviews here.
We install air conditioning and repair all major brands of air conditioning. Our service is available to all commercial, industrial and office premises throughout Polk and Burnett counties as well as parts of Barron and Washburn counties. Our clients vary from schools, hospitals and health spas through to independent shops, offices and residential homes.
Earth Energy offers 24-hour emergency furnace repair, boiler repair, and air-conditioning repair service in Wisconsin.
Contact Us Today For More Information