Earth Energy Offers Rapid Heating Service Repair Luck, as well as AC Repair in Luck, Wisconsin!
Earth Energy Systems provides furnace, heater and air conditioning repair, service, installation and services in Luck WI and surrounding areas. At Earth Energy Systems, we make sure that our customers get the most out of what they spend from their pocket. With over 20 years of experience we cater to all your air conditioning and heating needs. We service and repair our residential customers with excellence. We provide free estimates on new installations. The most important thing is the quality and attention to detail that we provide. With Earth Energy Systems, you can expect value and comfort. Check out Earth Energy Systems Heating and Air Conditioning services reviews here.
We install air conditioning and repair all major brands of air conditioning. Our service is available to all commercial, industrial and office premises throughout Polk and Burnett counties as well as parts of Barron and Washburn counties. Our clients vary from schools, hospitals and health spas through to independent shops, offices and residential homes.
Earth Energy offers 24-hour emergency furnace repair, boiler repair, and air-conditioning repair service in Wisconsin.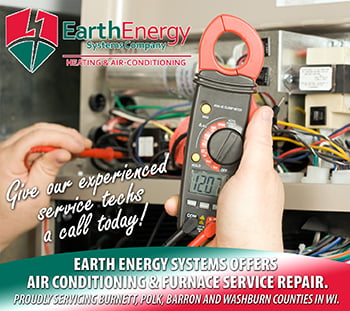 Contact Us Today For More Information
Earth Energy Systems offers air conditioning & furnace service repair.  Give our experienced service techs a call today! We service Burnett, Polk, Barron and Washburn Counties in WI.
Air-Conditioning, Furnace & Heating Repair Luck Areas
Earth Energy Systems performs furnace and air-conditioning maintenance and repair throughout Burnett and Polk Counties and also the western edge of Barron and the Spooner area.
Some of the services we provide are:
HVAC service on all makes and models
24-Hour Emergency Service
Quality Planned Maintenance Programs
Normal Business Hours:
7:30 am to 4:30 pm Monday through Friday
Emergencies:
For After-Hours Service, call 715-349-2314
Service Rates: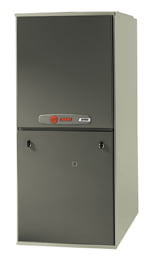 We charge $ to diagnose the problem with your system. The total price of repairs will be quoted before any repair work is performed
What does Earth Energy Systems do? What is HVAC?
HVAC stands for Heating, Ventilation and Air Conditioning.  Probably the only time that you think about calling an HVAC pro is when your air conditioner or furnace stops working.  But we do perform a wide range of services in addition to repairs, all relating to your climate control systems.  For example, we can provide an annual or twice a year inspection of your air and heating systems, evaluate the efficiency of your current system and install new or upgraded equipment.  Earth Energy can even clean your air ducts and vents as well.  Below is a more comprehensive list of some of the specific services that you can expect from a licensed and certified Luck WI heating and cooling company.
Furnace and Boiler installation, repair and service
Central air conditioning installation, repair and service
Ductless air conditioning installation, repair and service
Thermostat installation or replacement
Heat pump installation, repair and service
Humidifier installation, repair and service
Radiant floor heating installation and repair
Baseboard heating installation and repair
Vents and Ducts cleaning, installation and repair
Finding and hiring the right Luck WI heating and air conditioning contractor is easy. We offer 24/7 service, call 715-349-2314 now!
Earth Energy Systems HVAC Service Areas Covered:
Burnett County, WI: Anderson, Blaine, Daniels, Dewey, Grantsburg, Jackson, La Follette, Lincoln, Meenon, Oakland, Roosevelt, Rusk, Sand Lake, Scott, Siren, Swiss, Trade Lake, Union, Webb Lake, West Marshland, Wood River
Polk County, WI: Alden, Amery, Apple River, Balsam Lake, Beaver, Black Brook, Bone Lake, Centuria, Clam Falls, Clayton, Clear Lake, Dresser, Eureka, Farmington, Frederic, Garfield, Georgetown, Johnstown, Laketown, Lincoln, Lorain, Luck, McKinley, Milltown, Osceola, St. Croix Falls, Sterling, Turtle Lake, West Sweden
Western Edge of Barron County, WI: Almena, Arland, Barronett, Cumberland, Poskin, Turtle Lake, Twin Town
Southwestern corner of Washburn County, WI: Beaver Brook, Chicago Junction, Sarona, Shell Lake, Spooner
Geothermal energy makes an amazing energy supply. Click here to learning more about Geothermal Heating Solutions available in Luck WI?