When it comes to keeping your home at a comfortable temperature year-round, you need a heating and air-conditioning system that's efficient, customizable, and affordable. That's why you can trust Mitsubishi Electric, you'll never have to worry about being uncomfortable in your own home. We offer Mitsubishi Electric products including air-source heat pumps. We believe in their innovative technology and their commitment to making sure homeowners like you are satisfied. At the end of the day, you want your family and visitors to be content in your living areas. Read on to learn why our products are the ideal solution for your home.
How It Works
Efficient and affordable heating in WI is vital year-round. Choosing a solution that is tailored to you and your family's needs as opposed to a "once size fits all" product or service can mean the difference between a cozy winter and an uncomfortable living situation.
Room by room temperature control
Gone are the days of fighting over the temperature from halfway across your home. With Zoned Comfort Solutions®, you can now control how hot or cold every room in your house is and keep your family members satisfied. You can even turn off unused rooms and save energy and money.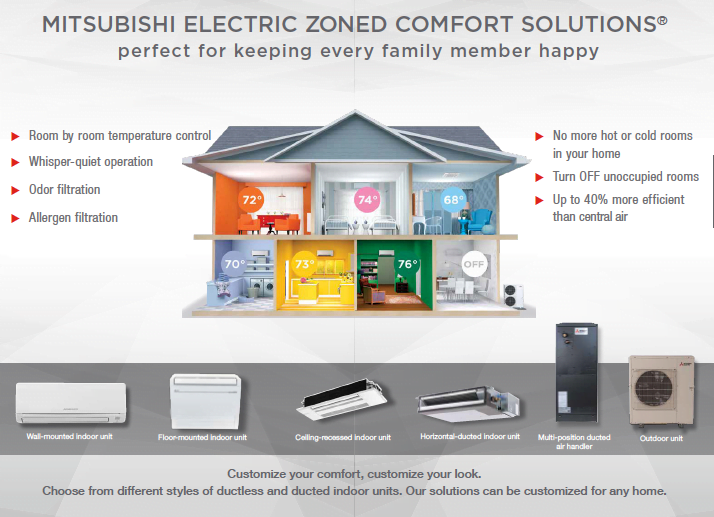 Whisper-quiet operation
No one likes to be woken up in the middle of the night. With our affordable AC and heating systems, you won't even realize it's there and can enjoy the peace and quiet, day and night.
Odor and Allergen Filtration
Clean air is a must, especially if you have family members with allergies or asthma. Zoned Comfort Solutions® filters out off-putting odors and pesky allergens, so your family members stay healthy and happy.
More energy efficient
Central air can be ineffective, and you may be paying more than is needed. Fortunately, Zoned Comfort Solutions® are up to 40% more energy-efficient, so you can save money and protect the environment at the same time.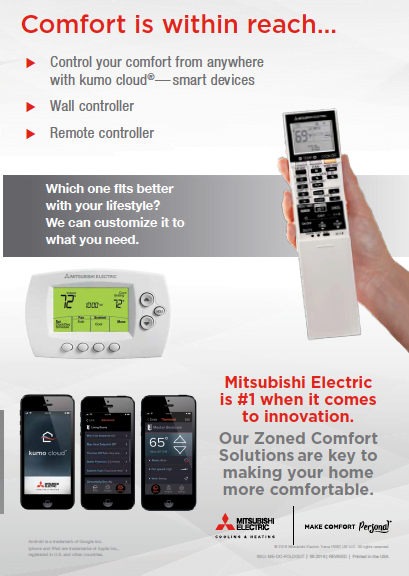 Control from anywhere
Whether you prefer a remote or wall controller or want to use your smart phone to adjust the settings, your convenience is our highest priority.
Custom Styles
We ensure that our affordable AC and heating systems uniquely address your needs, no matter what they are. Zoned Comfort Solutions® come in a variety of styles, including:
Wall-mounted indoor unit
Floor-mounted indoor unit
Ceiling-recessed indoor unit
Horizontal-ducted indoor unit
Multi-position ducted air handler
Outdoor unit
If you're not sure what which style fits your home, our reliable and confident staff are here to provide their expertise.
Qualified Diamond® Contractor
At Earth Energy Systems, our team members are the leading experts in affordable heating in WI. Our customers trust us to deliver excellent and professional service, from initial consultation to post-installation maintenance. We've been given the Diamond Contractor® designation by Mitsubishi Electric and are ready to help and answer questions. By working with us, you even increase the warranty for your compressor and parts by 12 years. Contact us today for a free heating and cooling estimate, and enjoy a more comfortable tomorrow.