Geothermal Heating | Radiant Floors | Internet Thermostats AC | Heating and Cooling Service in Webster, Wisconsin – Repair & Installation
Earth Energy Systems, based in Siren, can help you with your Repair & Installation needs with our
Heating and Cooling Service in Webster, Wisconsin!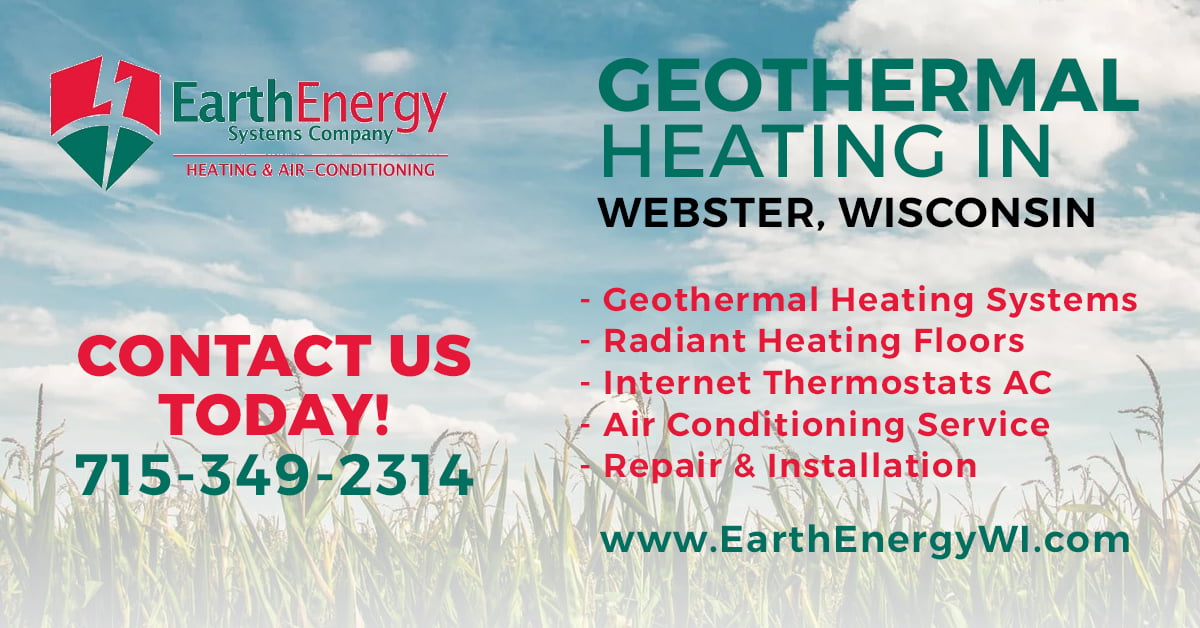 Contact us today for more information about our Heating and Cooling Service in Webster, Wisconsin area!
Geothermal Heating Systems in Webster, WI
Earth Energy Systems offers an all-in-one system with our heating and cooling service in Webster, Wisconsin. Our geothermal system works by accessing steam from hot water supplies underground to transform them into electricity.  Geothermal heating uses a heat exchanger, which transfers the heat from underground water, to the building's heating system.
There are many advantages of using geothermal heating in Webster WI.  These energy-efficient systems use only one unit of electricity to move up to five units of cooling or heating to a building. They just need a small amount of square footage of surface to be installed. In addition, the operation of the geothermal heating systems is extremely quiet. Best of all, maintenance costs can be between 50 and 75 percent lower than traditional heating and cooling system repairs.
Radiant Heating Floors in Webster, WI
Radiant heating systems supply heat directly to the floors or panels in the walls or ceilings of your home or business. Our radiant heating floor solutions in Webster, WI deliver heat directly to a room through infrared radiation.
Some of the advantages of using radiant heating floors is that it reduces allergens. Therefore, it is an ideal system for families that suffer from most types of allergies. There are savings advantages as well, because there are no duct losses, as in forced-air heating.
Internet Thermostats AC
Earth Energy Systems offer our customers a relatively new energy option in Webster, WI. Have been wanting to have access to control your home or business' temperature remotely? Well, our new heating and cooling system might be exactly what you're looking for.
In addition, and most importantly, the Internet thermostats Air Conditioning work wirelessly with a WiFi connection. This allows you to raise or lower the temperature as needed. As a result, you'll have complete control at home and at the office. Our Internet thermostats AC systems in Webster, WI, are changing the heating and cooling industry.  Therefore, our heating and cooling technology saves on energy and costs to operate for corporations, small businesses, and homeowners nationwide.
Air Conditioning Service in Webster, WI: Repair & Installation
In addition, all of Earth Energy Systems' contractors are trained to work on residential and commercial air conditioning systems. As a result, you can trust your installation will go smoothly. Also, our techs can complete any repair and installation work needed in the Webster area. In other words, just give us a call for all your air conditioning repair and installation needs in Webster.