Outdoor Furnaces for your Wisconsin Home
Earth Energy Systems in Siren WI recommends the WoodMaster Outdoor Wood Furnace in Wisconsin.

WoodMaster Outdoor Wood Furnace in Wisconsin
THE WOODMASTER ADVANTAGE
Now is the best time to switch your home heat to a WoodMaster outdoor wood furnace. You'll reduce your family's energy costs, maximize efficiency and rely less on traditional fuels.
Lower your home heat costs
Heat your whole home for far less money than fuel oil, propane, natural gas and even off-peak electric rates. Owners who have scrap wood sources or cut their own basically eliminate their "fuel" costs. Energy savings allow all owners to dramatically lower their heat costs.Calculate your savings with free estimates.

WoodMaster dealers have no-hassle financing available.
FEATURES/BENEFITS OF WOODMASTER OUTDOOR FURNACES
Safe
No fuels enter the house to limit smoke, soot, fire hazards and the risk of dangerous carbon monoxide buildup.
Efficient
Designed to deliver maximum Btu for more usable heat with less wood cutting and furnace-filling time.
WoodMaster exclusives:
Round chamber design provides optimum internal air movement and water circulation for even heat transfer and more efficient burn. This design also offers:
Forty percent fewer seams than a square box, for less chance of cracking or leaking and minimal pitting
No dead spots, so creosote doesn't build up
Digital Electronic Temperature Control (ETC) is one center for operating temperature settings, blower, reset, water level indicator and nightlight in an easy-to-read display.
Ask Earth Energy Systems about WoodMaster Outdoor Stoves today!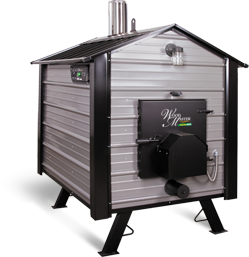 WoodMaster 4400 shown to the right is ideal for larger homes or home-garage combination. Available in a variety of sizes/models.
WoodMaster's five wood furnace models generate economical, natural, safe heat and are:
Compatible with most existing and new heat systems, including hot water, forced air, hydronic heat, radiant baseboard, existing water-to-water and in-floor.
Built to heat homes of all sizes, garages, workshops, pools, whirlpools, spa areas and other spaces, plus hot water systems.
Your WoodMaster team will help you find a furnace
to save time, money and natural resources.
INSTALLATION
Each WoodMaster wood furnace is installed outdoors, from 25-400 feet from the home or structure(s) that it will heat. A core fire box is surrounded by a water jacket. The fire warms water to its optimal heating temperature, maintained by automatic controls. The warm water moves through insulated underground piping into the home's heat exchangers and heating system. Inside, you control the temperature with your thermostat.
MAINTENANCE
Outdoor wood furnace maintenance tips:
Manage combustion by keep a continuous supply of oxygen and using the proper amount and type (cut, seasoned) of fuel (wood)
Properly build fires:

Completely open the damper
Place paper/kindling over entire bottom of fire box
Never use flammable liquids
Warm the flue

Inspect chimney flue, stovepipe every month

Look for cracked liners, missing parts, bird nests or other hazards

Clean joints, chimney connectors and flues as necessary
Maintain a briskly burning fire to reduce creosote buildup
If you do have a chimney fire, inspect and repair weakened parts before restarting furnace
Properly, regularly dispose of ashes
For more information on products contact us or call 715-349-2314.