Furnace Troubleshooting | Common Furnace Problems & Easy Solutions
Our expert team at Earth Energy put together a few helpful suggestions for furnace troubleshooting. Learn how to stay on top of maintenance and common furnace problems. In Wisconsin proper heating is essential to staying safe and happy during the chilly months.
Inspect Your Thermostat and Furnace Switch
If your furnace isn't working correctly, you should check if your thermostat has functioning batteries and make sure the furnace switch is on. I know as simple as it sounds this is a very common issue with furnaces. What you don't want to do is call someone to repair your furnace, find out there wasn't a problem, and receive a bill.  Most furnaces have another switch a "furnace switch." It's a power switch that often looks like a regular light switch. The furnace switch is normally located either on the unit or on a wall nearby. Most electricians work before the furnace is installed and that's why it's sometimes nearby by not on the furnace. Often the switch is unlabeled making it really easy to accidentally turn your furnace off.
Inspect Your Filter
As a preventative measure, you should keep your filters from being dirty. Otherwise, your furnace may not receive adequate airflow, which could cause it to overheat and stop prematurely. It's a good idea to maintain your furnace to keep easily preventable issues from bothering you all winter long. Dirty filters also results in poor air quality, this results in health problems such as the common cold, influenza, headaches, allergic reactions, breathing difficulties, fatigue, dizziness and even nausea.
Inspect Furnace Vents
When it comes to the safety of your family, it is always important to make sure your heating system is at peak performance. An obstructed vent causes the furnace to stay on and now carbon monoxide is a real threat.  Click here to view some tips to keep your furnace running during the extreme cold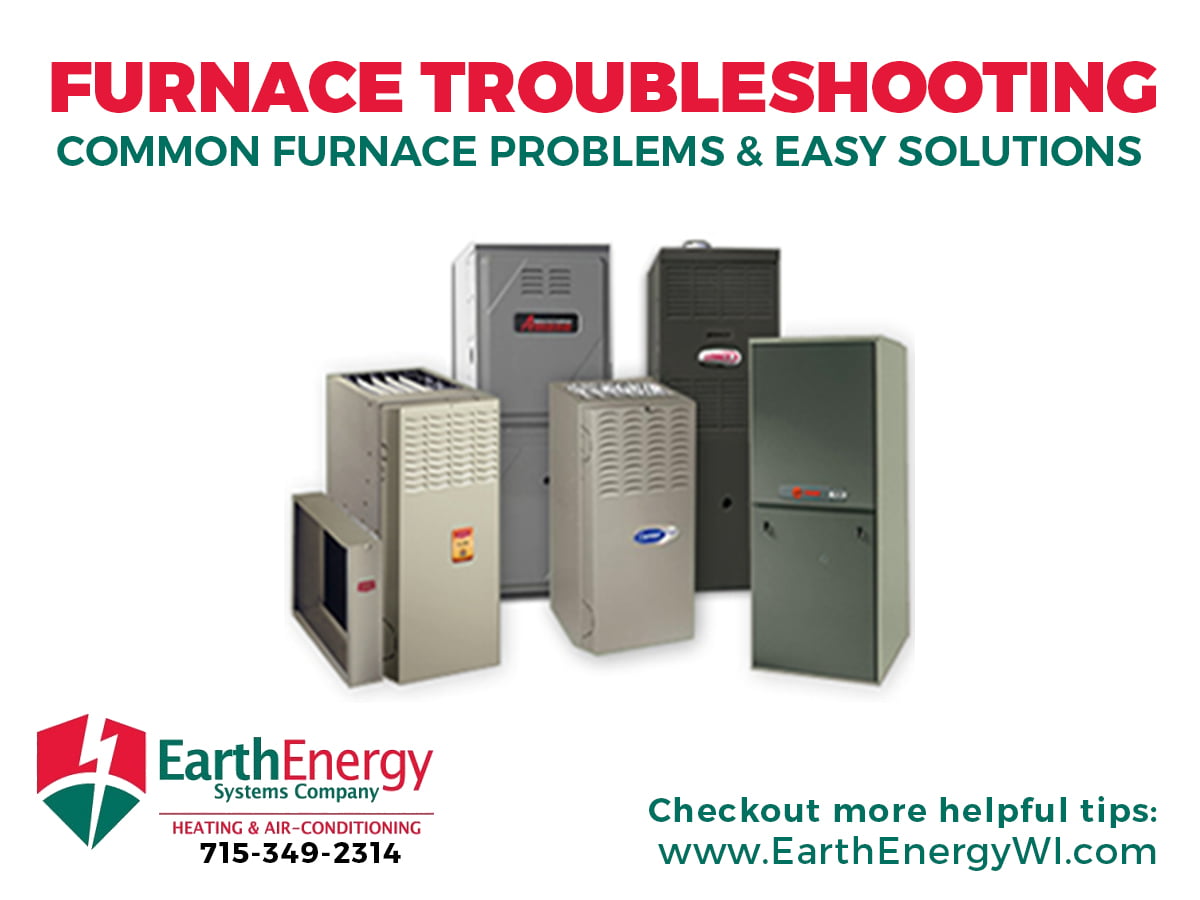 Did the above Furnace Troubleshooting & Common Furnace Problems resolve your issue?
If they did not, contact Earth Energy to resolve your furnace issues.
Join Earth Energy's Comfort Club Maintenance Program and Forget about Furnace Troubleshooting & Have Stress Free Furnace & AC Service!
We understand how frustrating it can be to have your furnace break down. With our Comfort Club Maintenance Program, you can rest easy knowing that 24/7 priority assistance is just one call away. Not only do we clean and check your furnace on a yearly basis, you receive a 10% discount on parts. Our preventative maintenance ensures that your furnace will run smoothly every winter, so give us a call at 715-349-2314.