What is Geothermal Heating and How Does it Work?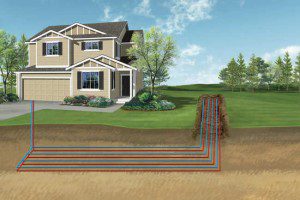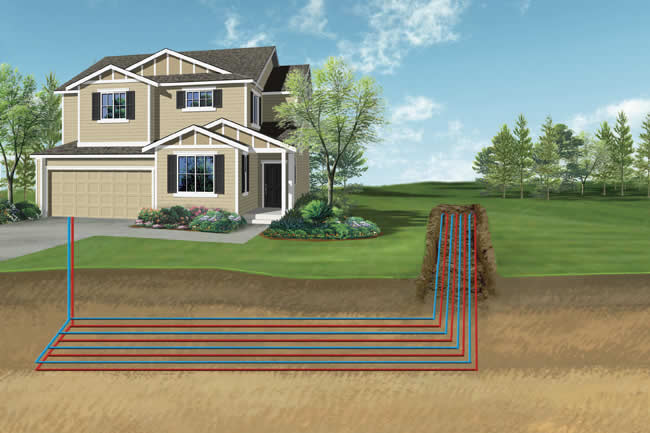 Hearing the word 'geothermal' sounds intriguing, but most people don't fully understand the meaning. If we break the term down, we see 'geo', which simply means "of or relating to the earth" and thermal, which is associated with heat or heating.  Maybe you were already on the right track, and if so, you're well on your way to comprehending geothermal heating and how it works.  Keep reading to get answers to some basic questions about this simple and yet powerful technology.
How Does Geo Heating Work?
The earth produces its own heat naturally from the warmth of the sun and the biological energy that's expended under the crust (that's the layer of the earth that you and I regularly observe). This heat is continually being organically produced and is inherently renewable. When we talk about geothermal heating, we're discussing capturing that natural heat from the ground and directing it into your home.  Piping loops are installed underground which capture the heat and lead it into the house. These pipes are buried in the ground in order to maintain a more consistent temperature than the outside air, particularly useful when we consider the extreme seasonal temperatures of Wisconsin. Once the heat from the earth is absorbed into the solution in the pipe loops, it is then directed into the home's ventilation system, allowing the heat to circulate throughout the house.
Is it Truly More Cost Effective Than Electric or Propane Heat?
This is an important question and one to which we can give you a confident, "Yes!" In Wisconsin and the Midwest, geothermal heating is the most inexpensive way to heat or cool your home. Using geothermal technology as your home's heating and cooling system is the most energy-efficient and environmentally friendly way to regulate the temperature in your house. It is 30%-50% times more efficient than traditional electric or propane alternatives which will save you a substantial amount of money each year. These systems may seem more expensive with their upfront installation cost, but they typically pay for themselves in 8 to 12 years.  As an added bonus, the government will reward you with a tax credit for choosing an earth friendly way to temperature regulate your home.
How Environmentally Friendly are Geothermal Systems?
Since the loops of piping used in geothermal heating are in the ground gathering the natural heat that is produced and housed there, zero natural resources are being burned up (think: fossil fuels). Instead of using more energy to create heat, geothermal technology is gently transferring what's readily available from the earth into your home using electricity. Because of these facts, geothermal heating and cooling systems in Wisconsin are the most effective way to limit the external resources being used to keep your home comfortable.  In addition, these systems have been tested, approved, and rewarded with ENERGY STAR efficiency which is the highest award available from the Energy Conservation Organization (ECO).
By tapping into the earth's natural heat sources, your home's heating system could not be any more natural. Take a look at geothermal heating and cooling systems in Wisconsin and ask one of the professionals at Earth Energy Systems to find you the perfect fit for your home.