TRANE offers a family of Energy Efficient Air Conditioners that contain five different models in the XLi line. These high-efficiency XLi air-conditioners were engineered to bring the highest level of cool and clean comfort. Tested against rigid specifications assures that each unit is designed for excellent performance. Air conditioning systems in the XLi family deliver reliable and efficient energy use all day and night. Ultimately keeping your home cool and comfortable during the warm Wisconsin summers.
How Air Conditioners Work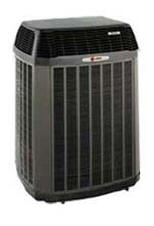 As part of a central heating and cooling system, the air conditioner provides cool air throughout your home through ductwork. In the simplest terms, an air conditioner works by changing the temperature and humidity of the air in your home. They make your home more cool by drawing out the heat from inside your house and transferring it to the outdoors. Then, it replaces the air inside your home with cooler, more comfortable air.
Air Conditioner Specifications
There are five different models of air-conditioners in the XLi family including XL14i, XL15i, XL16i, XL19i and the XL20i. All of which are highly energy efficient and provide maximum comfort inside your home. All of the TRANE air conditioners are rated highly on the SEER (Seasonal Energy Efficiency Ratio) scale for energy efficiency. Here is a break down of some of the specifications of each of the models in the XLi family.
TRANE XL20i
SEER rating of 20.00, highest efficiency rating of any air conditioner on the market today.
Contains two compressors for different heat levels.
TRANE XL16i
SEER rating of 17.5, a very energy conscious choice.
Two-stage cooling helps avoid dramatic temperature shifts in the home to guarantee comfort.
TRANE XL15i
SEER rating of 16.5, making it the most efficient single-stage air conditioner.
Very quiet while in use, minimizing the noise pollution in your home.
TRANE XL14i
SEER rating of 15, maintaining efficiency and comfort.
Contains many of the same features as the top of the line air conditioners.
Components of a TRANE Comfort System
A total TRANE comfort system contains both an XLi air conditioner outside, as well as a high efficiency, two-stage gas furnace indoors. Inside the home, you will see a cooling coil, electric air cleaner, humidifier, and thermostat. Having a matched system with all TRANE components will be the best way to ensure that each part was designed and engineered to work together seamlessly. This will enhance the overall performance of the cooling system as a whole, including maximum efficiency and reliability.
Earth Energy strives to provide the most energy efficient and effective air conditioning solutions in Wisconsin. Choosing one of the TRANE systems we offer will not only provide you with a reliable and efficient air conditioner but will guarantee comfort in your home in the warm Wisconsin summers.
<<< More information on Trane Air Conditioners for Wisconsin homes and businesses