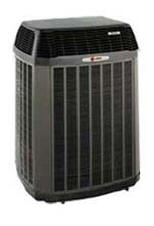 Energy Efficient Trane Air Conditioners in WI


XL14i, XL15i, XL16i, XL19i, XL20i THE XLi FAMILY OF ENERGY-EFFICIENT AIR CONDITIONERS
MAJOR FEATURES OF YOUR XL20i TRANE AIR CONDITIONERS
ComfortLink II Communicating Capability
Charge Assist™ with enhanced performance and efficiency
Dual Climatuff® Compressors
Two-row Spine Fin™ coil
Two-Stage Cooling
Multi-stage Fan
R410A Refrigerant
Full-Side Louvered Panels
WeatherGuard™ Top Protects Components
Weather Resistant WeatherGuard™ Fasteners
DuraTuff™ Rust-Proof Base Pan
Quick-Sess cabinet with full coil protection
Sound Insulator on Compressors
XL20i – Efficient performance
The XL20i's SEER (Seasonal Energy Efficiency Ratio) rating of up to 20.00 is among the highest energy efficiency rating of any air conditioner available today. The XL20i has two compressors: one for milder weather and a second larger compressor for those extremely hot days. It's like having two units in one.
XL16i – Two-stage cooling prevents temperature swings so comfort is guaranteed. With up to a 17.5 SEER, the XL16i is an energy conscious choice for your home.
XL15i – With up to a 16.5 SEER, the XL15i is the most efficient of our single-stage air conditioners. It's also very quiet, maintaining a tranquil environment while keeping your home comfortable and cool.
XL14i – A SEER rating of up to 15 makes it efficient as well. The XL14i includes many of the same features as our top of the line units.
WELCOME HOME TO THE HIGHEST LEVEL OF COOL, CLEAN COMFORT
Xli air conditioners are designed and engineered to meet rigid specification, tested to assure excellent performance, and manufactured to last. Each unit is also designed to deliver exceptional reliability and energy efficiency all day, all night and for years to come. XLi air conditioners thoroughly condition your air, making your home environment ideal.
THE COMPONENTS OF A TRANE HOME COMFORT SYSTEM
A TRANE high-efficiency comfort system may consist of an XLi air conditioner outside and a two-stage gas furnace, indoor cooling coil, electronic air cleaner, humidifier and thermostat inside. A matched system is comprised of these multiple TRANE components, each of which has been designed and engineered to work seamlessly together to enhance overall performance for maximum efficiency and reliability. There is simply no better way to create the ideal home environment.
GUARANTEED WARRANTIES
We cover the heat exchanger with a Lifetime Limited Warranty to the original, registered homeowner we guarantee that if the heat exchanger fails during the first 10 years of ownership, we will replace the entire unit. The furnace also has a full 10-Year Limited Warranty on all other functional parts.