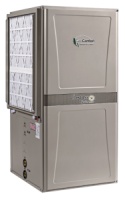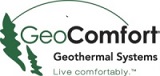 VERTICAL PACKAGED UNIT MULTI-POSITIONAL GeoComfort® Compass® Series geothermal systems are expertly designed to be technologically advanced, exceptionally efficient and uniquely crafted. The result is a heating and cooling system as beautiful as it is functional.
These units offer all of the reliability and comfort you've come to expect from GeoComfort systems with the visual appeal and added benefits that are truly ground breaking.
GEOCOMFORT COMPASS SERIES, WHERE EFFICIENCY MEETS ELEGANCE Compass Series heating and cooling systems' industry leading design combines the highest quality features with an appliance grade cabinet. That combination provides an experience like no other, helping you make your home the most it can be.
SIGNATURE FEATURES:
Our exclusive quadruple compressor isolation provides the best combination of sound and vibration absorption available. This makes the Compass Series the quietest geothermal heat pump on the market.
The dramatic champagne colored appliance-grade cabinet is a housing worthy of such an exceptional heat pump. The rounded corners and embossed doors are an example of our unparalleled attention to detail. As a bonus, this unique design creates a nearly air-tight seal, having a positive effect on your home's air quality.
Innovative mechanical design increases this unit's life expectancy, increases your home's air comfort and produces an extremely high cooling EER [Energy Efficiency Ratio] and some of the highest heating capacities and COPs [Coefficient of Performance] on the market today.
GeoComfort systems are built in the heart of America with stringent quality control systems and the most comprehensive testing within the geothermal heating and cooling industry. The Compass Series: one more way the GeoComfort brand fi ts the way you live.
Contact Earth Energy Systems today about Geothermal Heat Pumps in WI.