Earth Energy Systems is your local Mitsubishi Diamond Elite Contractor. As Mitsubishi Diamond Elite Dealer, we have the authority to provide our customers with exclusive warranties that other dealers cannot offer. We provide cold climate air-source heat pumps that are specifically designed for cold areas such as Wisconsin. These systems can save you money on heating bills while keeping your home or office warm and comfortable. Our skilled and experienced team of contractors can help you decide which Mitsubishi Ductless Split System unit will suit your needs and talk about payment plans and installation.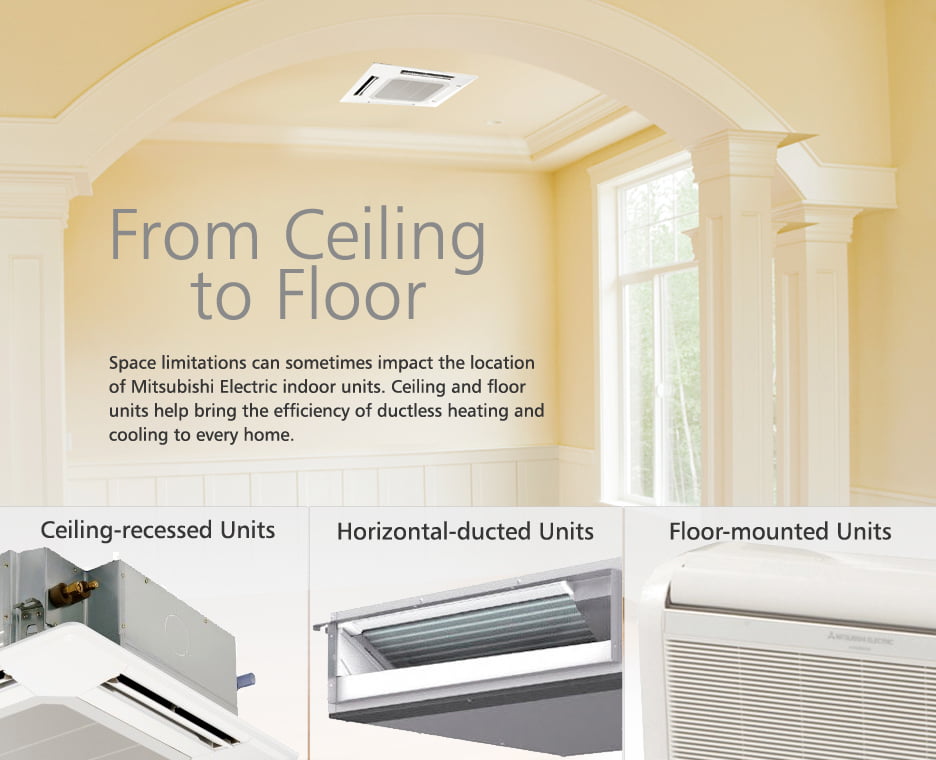 Maintaining a comfortable indoor temperature is essential, especially when the season is changing. Heating and cooling systems have become a staple in every home and commercial establishment, and traditional HVAC systems have always been the norm. But with the advent of ductless split systems, homeowners and business owners are now starting to see the benefits of these systems. In this blog post, we will talk about why Mitsubishi Ductless Split Systems are the better choice, and why you should consider installing them in your home or establishment.
Best Locations for Mitsubishi Ductless Split Systems
Space limitations can sometimes impact the location of Mitsubishi Electric indoor units.
Ceiling-Recessed Units
Ceiling and floor units help bring the efficiency of ductless heating and cooling to every home. Ceiling-recessed units, for instance, are perfect for homeowners or business owners who do not want any visible indoor units and want to maximize their living or working space. These units are strategically installed in your ceiling and are designed to blend in with your home or office's design. And with Mitsubishi Electric's advanced technology, you can expect excellent performance and energy efficiency from the unit.
Horizontal-Ducted Units
On the other hand, horizontal-ducted units are perfect for rooms with drop ceilings. These units are installed above the ceiling and use a duct system to provide heating and cooling. The duct system can be hidden within the ceiling, making it an excellent option for homeowners or business owners who want a clean and minimalist look. This type of unit can also be effortlessly incorporated into your building's design without the need for bulky ductwork.
Floor-Mounted Unit
If you prefer a floor-mounted unit, there are options available for you too. Floor-mounted units are ideal for houses or establishments that have limited ceiling or wall space. These types of units can be installed on any type of flooring, cement, or carpet, and can blend well with any kind of décor. It is perfect for those who want consistent, even heat to the chosen space.
Give Us A Call
If you're searching for an efficient and versatile heating and cooling system for your home or office, then a Mitsubishi Ductless Split System is an excellent investment. Whether you want to install a ceiling-recessed, horizontal-ducted, or floor-mounted unit, Mitsubishi Electric makes it easy and convenient to fit units into any room of your home or office. As a Mitsubishi Diamond Elite Contractor, Earth Energy Systems guarantees our customers that they will receive the best customer service and an exclusive warranty. Don't hesitate to call us at  715-349-2314 for more information about Mitsubishi ductless units, or to schedule your installation today!